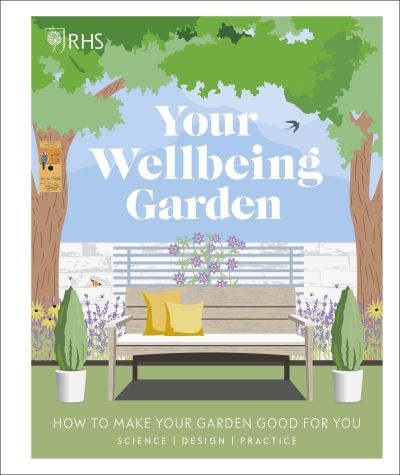 Your Wellbeing Garden
£16.99
Gardens can enhance your wellbeing, but why? Covering design, plants, and the act of gardening, this book uniquely explains why green spaces are good for you and shows how to use that knowledge to optimise your outdoor space. The plants you grow and your garden layout can induce relaxation, boost your cardio system, and enhance mood. A well-planned space will neutralise pollution, mask noise, and reduce household energy and water consumption. And gardening itself can improve flexibility and fitness, counteract nature deficiency order, and promote happiness. Award-winning garden designer Matthew Keightley and RHS scientist Alistair Griffiths pool their expertise to write an inspiring practical book brimming with ideas supported by the latest scientific research on gardens and wellbeing.
Your garden could be even better for you.
Discover…
How certain plants can form a barrier against air and noise pollution
Which birdsong alleviates anxiety
How plants can help to save energy
Why green is so good for us
Learn how connecting with nature can reduce stress and improve wellbeing. You don't even need a garden – even a balcony or houseplants can help to boost your mood. Every recommendation is backed by scientific research, drawn together by the team of RHS scientists and experts. Favourite garden designer at the RHS Chelsea Flower Show Matt Keightley then suggests how to translate the science into ideas for your green space.
With this groundbreaking book, find out how, in sometimes very simple ways, you can create an outdoor space that nourishes your mind and body, and is good for our planet too.
In stock