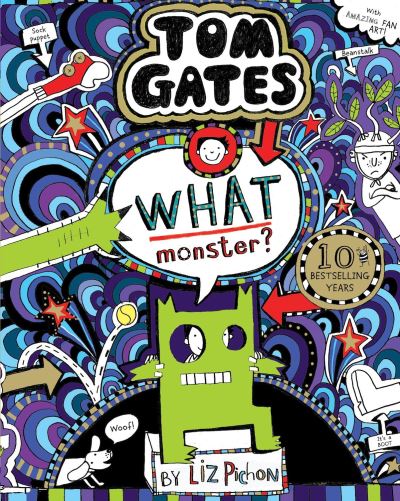 What Monster?
£7.99
The newest fully-illustrated paperback edition in the Tom Gates series will have readers cracking up!
 
The fifteenth title in the bestselling Tom Gates series of books from the brilliantly talented Liz Pichon.
What's that?
A MONSTER?
How has this scary beast escaped into Tom's sort-of-normal world?
Is it one of his doodles?
Is it Delia on the rampage?
Or is it Mr Fullerman at full moon?
All will be revealed in this book.
According to Tom, it contains:
MONSTERS – MYSTERY – A MUSIC FESTIVAL – MISSING STUFF.
Oh, and also a very strict supply teacher who is every kid's nightmare.
Is _that_ the monster?
But you're not scared of monsters, are you? So don't let it put you off!
 
Tom Gates is a series of books in diary form
Full of Tom's doodles and pictures & his amazing sense of humour
The Brilliant World of Tom Gates, was the winner of the Roald Dahl Funny Prize!
Perfect gifts for boys & girls who love to laugh themselves silly
The first series of The Brilliant World of Tom Gates won the Scottish BAFTA for Entertainment!
 
TOM GATES BOOKS
Brilliant World of Tom Gates (book 1)
Tom Gates:Â Excellent Excuses (And Other Good Stuff) (book 2)
Tom Gates: Everything's Amazing (sort of)Â (book 3)
Tom Gates: Genius Ideas (mostly) (book 4)
Tom Gates is Absolutely Fantastic (at some things)Â (book 5)
Tom Gates: Extra Special Treats (not) (book 6)
Tom Gates: A Tiny Bit Lucky (book 7)
Tom Gates:Yes! No. (Maybe…)Â (book 8)
Tom Gates: Top of the Class (Nearly)Â (book 9)
Tom Gates: Super Good Skills (Almost…)Â (book 10)
Tom Gates: DogZombies Rule (For now…)Â (book 11)
Tom Gates:Â : Family, Friends and Furry Creatures (book 12)
Tom Gates: Epic Adventure (kind of)Â (book 13)
Tom Gates: Biscuits, Bands and Very Big Plans (book 14)
Tom Gates: What Monster? (book 15)
Tom Gates: Mega Make and Do and Stories Too! (book 16)
Tom Gates: The Music Book
In stock