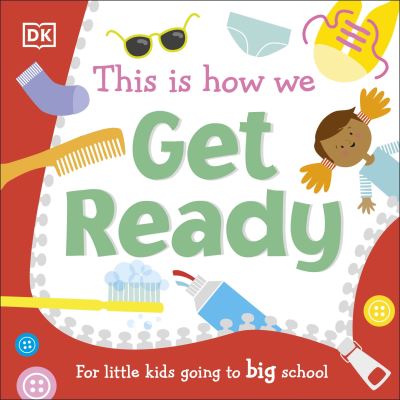 This Is How We Get Ready
£4.99
Getting ready in the morning can be a bit of a struggle. No matter what grown-ups tell you, being little is hard work; there's so much to learn – from remembering to brush your teeth, even when you don't feel like it, to tying your shoelaces and finding the right hole for each arm in a jumper, and a whole bunch of other things too. And if your days aren't extremely busy enough with all of this getting ready and some very important playing, before you know it you'll have to fit all of this in and go to school! This book will guide you along the way by teaching you the skills you need to look after yourself and get ready for the day ahead.
Is your little one preparing to go to BIG school? This handy guide helps teach the new morning routine for starting nursery school.
Before you head off for school don't forget to pack your bag and clean your teeth! Help familiarise your little ones with how to get ready on their own in the mornings. There's so much to learn when you're little – especially during busy mornings. This book makes learning their new routine fun and easy.
Inside of the pages of this book for kids, you'll find:
– Important skills to become self-sufficient explained in a fun gentle way
– Each part of the daily routine to get ready for school is presented visually with bright and attractive illustrations
– Encourages children to practice their new skills and try out what they are learning in the real world
– Includes a handy morning checklist to make sure everyone is ready to step out of the door!
– A fun and interactive way for parents to introduce the new routine for children starting nursery school
Rise and shine! Start the day by getting out of the right side of the bed with positive affirmations, then make sure to have a healthy breakfast. Don't forget the importance of self-care – wash your face, brush your hair, and clean your teeth.
This first experiences book for children is a great way to encourage independence and responsibility. Includes a morning checklist to make sure all school bags are packed and everyone is ready to go.
Complete the series
DK's This is How We series is an exciting range of early learning books for preschoolers that explain key concepts, first experiences and life skills. Look out for This is How We Make Friends, This is How We Eat Well, and This is How We Stay Safe to help your little ones grow confident to move about in the wider world.
In stock