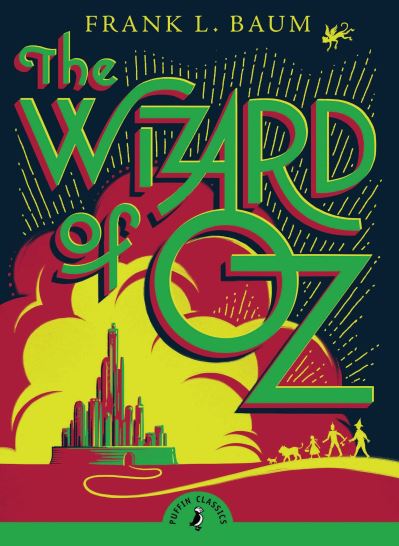 The Wizard of Oz
£7.99
This series revisits some enduring examples of children's literature, re-illustrated for today's reader. McKee brings his distinctive style to one of the best-loved books in the canon of children's literature – The Wizard of Oz.
An iconic classic, The Wizard of Oz by Frank L. Baum is a must-read for adults and children alike.
Follow the yellow brick road!
Dorothy thinks she is lost forever when a terrifying tornado crashes through Kansas and whisks her and her dog, Toto, far away to the magical land of Oz. To get home Dorothy must follow the yellow brick road to Emerald City and find the wonderfully mysterious Wizard of Oz. Together with her companions the Tin Woodman, the Scarecrow and the Cowardly Lion whom she meets on the way, Dorothy embarks on a strange and enchanting adventure.
With a charming introduction by award-winning Cornelia Funke, The Wizard of Oz is one of the twenty wonderful classics relaunched in Puffin Classics in March 2015.
***PLUS a behind-the-scenes journey, including an author profile, a guide to who's who, activities and more…***
Frank L. Baum (1856-1919) was born in New York. He enjoyed making up stories, particularly for his own children. The Wizard of Oz, based on their favourite bedtime story about a land of Oz, was published in 1900 and it immediately became a huge international success. He wrote several sequels and numerous other kinds of books under a pseudonym.
The Puffin Classics relaunch includes:
A Little Princess
Alice's Adventures in Wonderland
Alice's Adventures Through the Looking Glass
Anne of Green Gables
Black Beauty
Hans Andersen's Fairy Tales
Heidi
Journey to the Centre of the Earth
Little Women
Peter Pan
Tales of the Greek Heroes
The Adventures of Huckleberry Finn
The Adventures of King Arthur
The Adventures of Tom Sawyer
The Call of the Wild
The Jungle Book
The Odyssey
The Secret Garden
The Wind in the Willows
The Wizard of Oz
Treasure Island
In stock