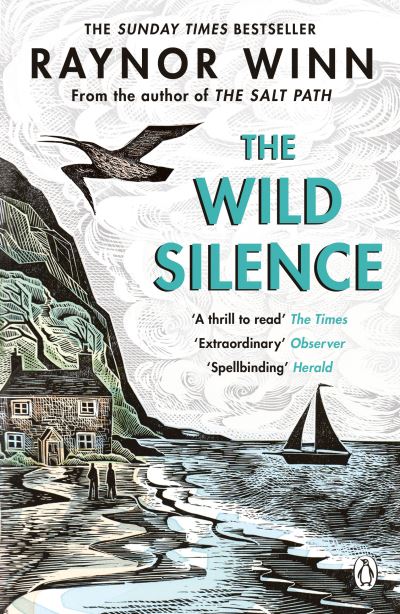 The Wild Silence
£9.99
Nature holds the answers for Raynor and her husband Moth. After walking 630 miles homeless along the Salt Path, the windswept and wild English coastline now feels like their home. And despite Moth's terminal diagnosis, against all medical odds, he seems revitalised in nature – outside, they discover that anything is possible. Now, life beyond the Salt Path awaits. As they return to four walls, the sense of home is illusive and returning to normality is proving difficult – until an incredible gesture by someone who reads their story changes everything: a chance to breathe life back into a beautiful but neglected farmhouse in the Cornish hills – rewilding the land and returning nature to its hedgerows becomes their new path. Along the way, Raynor and Moth learn more about the land that envelopes them, find friends both new and old, and embark on another windswept adventure when the opportunity arises.
Escape into nature from the cosiness of your chair in the remarkable No. 1 besteller from the million-copy bestselling author of The Salt Path

LONGLISTED FOR THE WAINWRIGHT PRIZE 2021
'Beautiful, a thrill to read . . . you feel the world is a better place because Raynor and Moth are in it' The Times
'Brilliant, powerful and touching . . . will connect with anyone who has triumphed over adversity' Stephen Moss, author and naturalist
'A beautiful, luminous and magical piece of writing' Rachel Joyce, author of The Unlikely Pilgrimage of Harold Fry
_______
'It was the land, the earth, the deep humming background to my very being'
In 2016, days before they were unjustly evicted from their home, Raynor Winn was told her husband Moth was dying.
Instead of giving up they embarked on a life-changing journey: walking the 630-mile South West Coast Path, living by their wits, determination and love of nature.
But all journeys must end and when the couple return to civilisation they find that four walls feel like a prison, cutting them off from the sea and sky that sustained them – that had saved Moth's life.
So when the chance to rewild an old Cornish farm comes their way, they grasp it, hoping they'll not only reconnect with the natural world but also find themselves once again on its healing path . . .
_______
'Confirms Raynor as a natural and extremely talented writer with an incredible way with words. This book gives us all what we wanted to know at the end of The Salt Path which is what happened next. So moving, it made me cry . . . repeatedly' Sophie Raworth, BBC
'Winn's writing transforms her surroundings and her spirits, her joy coming across clearly in her shimmering prose' i
'Unflinching . . . There is a luminous conviction to the prose' Observer
'Notions of home are poignantly explored . . . wonderful' Guardian

**Nominated for the Holyer an Gof Memoir Award**
Praise for The Salt Path
'An astonishing narrative of two people dragging themselves from the depths of despair along some of the most dramatic landscapes in the country, looking for a solution to their problems and ultimately finding themselves' Independent

'This is what you need right now to muster hope and resilience . . . a beautiful story and a reminder that humans can endure adversity' Stylist
'The landscape is magical: shapeshifting seas and smugglers' coves; myriads of sea birds and mauve skies. Raynor writes exquisitely . . . it's a tale of triumph; of hope over despair, of love over everything' The Sunday Times
'The Salt Path is a life-affirming tale of enduring love that smells of the sea and tastes of a rich life. With beautiful, immersive writing, it is a story heart-achingly and beautifully told' Jackie Morris, illustrator of The Lost Words by Robert Macfarlane
In stock