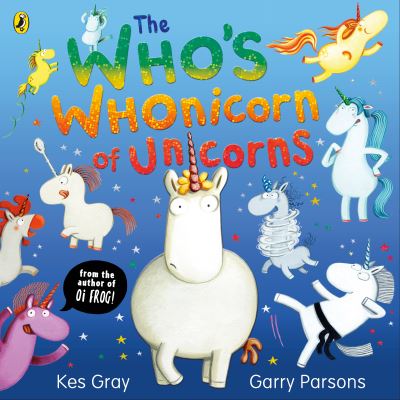 The Who's Whonicorn of Unicorns
£6.99
In the beginning there was only one unicorn in the whole wide universe! Jump into this magical alternate history of the world created by two small children, where unicorns definitely exist and there LOTS of different types – spooky Boo!nicorns, polite Afteryounicorns, floating Baloonicorns, smelly Poonicorns, clumsy Bumpintonicorns – and so many more!
A laugh-out-loud, read-aloud picture-book guide to the wildest and wackiest unicorns you can imagine, from the author of the Oi Frog and Friends series, Kes Gray, and illustrator of The Dinosaur that Pooped series, Garry Parsons.
Dive into this delightfully silly unicorn Who's Who and get ready to discover:
– spooky BOO!nicorns
– polite AFTERYOUnicorns
– floating BALLOONincorns
– smelly POOnicorns
– clumsy BUMPINTOnicorns
– and so many more!
This funny and surprising new take on the unicorn craze is jam-packed with joyful wordplay and hilarious illustrations. It's also a brilliantly inventive way to encourage children's creativity and imagination.
*A fully illustrated version of Daisy and Gabby's story from the bestselling Daisy and the Trouble with Unicorns*
In stock