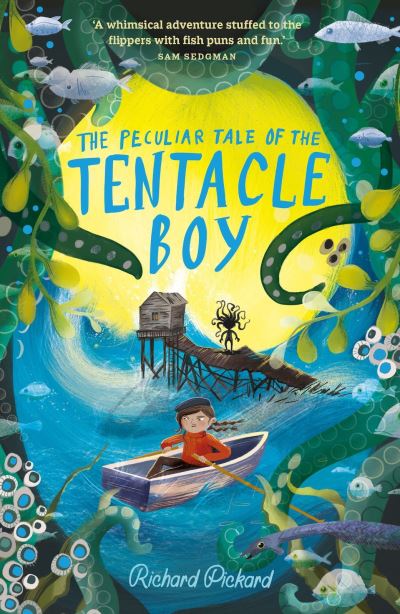 The Peculiar Tale of the Tentacle Boy
£6.99
When Marina discovers a boy called William with a head of tentacles and crab claws for hands, she resolves to help him unravel the mystery of his past. But danger lurks among the fishmongers of the seaside town of Merlington …
 
A fin-tastic tale of friendship and adventure, perfect for fans of Lemony Snicket and Edward Scissorhands!
'Charming and delightful … a whimsical adventure story stuffed to the flippers with fish puns and fun.' SAM SEDGMAN, CO-AUTHOR OF THE ADVENTURES ON TRAINS SERIES
'The story has been polished like a pebble in a gift shop ? so charming and quirky is our voyage' THE TIMES

'[A] gem of a book' JENNIFER KILLICK

'Crammed to the gills with everything I want in a middle-grade book … I was swept right into the vivid world of Merlington and adored the larger-than-life characters deftly drawn in technicolour – they sing from the pages!' JASBINDER BILAN
Marina lives in Merlington, a fish-obsessed seaside town. Unfortunately, she doesn't care for fish; she loves telling stories.
Marina finds her best story yet when she explores the ruined, haunted pier: a boy called William with a head of tentacles and crab claws for hands. He has lived on the pier all his life, cared for by a fisherman who has since disappeared and who warned him always to remain hidden.
Together, the pair resolve to unravel the mystery of his past – but danger isn't far away …
The debut novel by Richard Pickard, a fresh new voice in children's fiction and winner of the Times/Chicken House Chairman's Choice Award 2019.
A funny, dark, core middle-grade story touching on themes of lies, storytelling, secrets, acceptance and, of course, fish!
Perfect for fans of Lemony Snicket's A Series of Unfortunate Events and Edward Scissorhands!
In stock