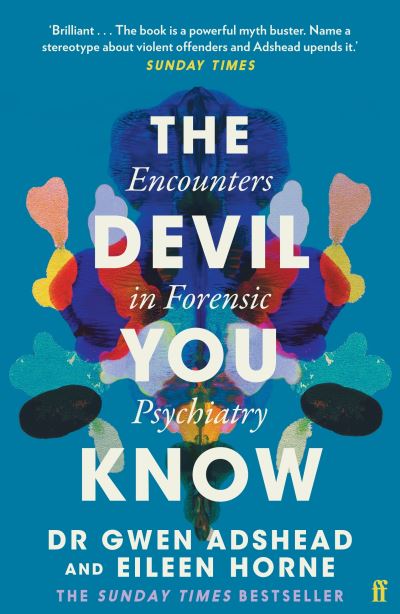 The Devil You Know
£8.99
'In The Devil You Know', Dr. Gwen Adshead reminds us that before destroying another life, those reviled as 'monsters' at Broadmoor were ordinary people with whom we shared, and continue to share, common ground. In fact, we are more alike than we are different.
A SUNDAY TIMES, NEW STATESMAN & IRISH TIMES BOOK OF THE YEAR
SHORTLISTED FOR THE CRIME WRITERS ASSOCIATION GOLD DAGGER FOR NON-FICTION
A perspective-shattering work into the minds of violent criminals that reveals profound consequences for human nature and society at large.
*INCLUDES A NEW CHAPTER*
'Brilliant . . . The book is a powerful myth buster. Name a sterotype about violent offenders and Adshead upends it.'
SUNDAY TIMES

'Deeply moving . . . the most overwhelming feeling I had on finishing this book was of hope . . . Compassionate and fascinating.'
GUARDIAN

Dr Gwen Adshead is one of Britain's leading forensic psychiatrists. She treats serial killers, arsonists, stalkers, gang members and other individuals who are usually labelled 'monsters'. Whatever their crime, she listens to their stories and helps them to better understand their terrible acts of violence. Here Adshead invites the reader to step with her into the room to meet twelve patients and discover how minds can change. These men and women are revealed in all their complexity and shared humanity. Their stories make a powerful case for rehabilitation over revenge, compassion over condemnation. The Devil You Know will challenge everything you thought you knew about human nature.
'An unmissable book.' OBSERVER
'Adshead's compassion is almost as shocking as the offences themselves . . . it gives her distance and extraordinary insight.'
THE TIMES, Books of the Year
'The Devil You Know has permanently recalibrated my empathy dial.'
NEW STATESMAN, Books of the Year

'Deeply humane.'
IRISH TIMES, Books of the Year
'Exceptional.' VAL McDERMID
'Extraodinary.' SEBASTIAN FAULKS
'Gripping . . . ultimately enlightening.' PHILIPPE SANDS
'Fascinating and beautifully written.' CHRISTIE WATSON
In stock