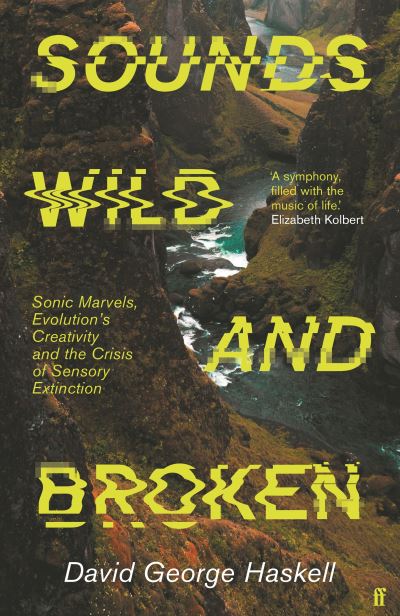 Sounds Wild and Broken
£20.00
Sound has shaped the history of the Earth and its inhabitants. The first sound waves of the universe are still visible today, their peaks and troughs marked in the night sky by galaxies and starless spaces between. And yet this shared sonic existence is in crisis, as human noise threatens to drown out all else. From city streets to ocean depths, and Palaeolithic cave dwellings to modern concert halls, this book is an illuminating exploration of the rich and varied sounds of our planet. It is at once a joyful celebration of the natural cacophony of existence, and a stark warning of what is at stake should this sonic diversity be lost.
An awe-inspiring exploration of the sounds of the living Earth, and the joys and threats of human music, language and noise.
'A symphony, filled with the music of life . . . fascinating, heartbreaking, and beautifully written.'
ELIZABETH KOLBERT, author of The Sixth Extinction
'Sounds Wild and Broken affirms Haskell as a laureate for the earth, his finely tuned scientific observations made more potent by his deep love for the wild he hopes to save.'
NEW YORK TIMES

'Wonderful . . . a reminder that the narrow aural spectrum on which most of us operate, and the ways in which human life is led, blocks out the planet's great, orchestral richness.'
GUARDIAN
We live on a planet alive with song, music, and speech. David George Haskell explores how these wonders came to be. In rainforests shimmering with insect sounds and swamps pulsing with frog calls we learn about evolution's creative powers. From birds in the Rocky Mountains and on the streets of Paris, we discover how animals learn their songs and adapt to new environments. Below the waves, we hear our kinship to beings as different as snapping shrimp, toadfish, and whales. In the startlingly divergent sonic vibes of the animals of different continents, we experience the legacies of plate tectonics, the deep history of animals and their movements around the world, and the quirks of aesthetic evolution.
Starting with the origins of animal song and traversing the whole arc of Earth's history, Haskell illuminates and celebrates the emergence of the varied sounds of our world. In mammoth ivory flutes from Paleolithic caves, violins in modern concert halls, and electronic music in earbuds, we learn that human music and language belong within this story of ecology and evolution. Yet we are also destroyers, now silencing or smothering many of the sounds of the living Earth. Haskell takes us to threatened forests, noise-filled oceans, and loud city streets to show that sonic crises are not mere losses of sensory ornament. Sound is a generative force, and so the erasure of sonic diversity makes the world less creative, less beautiful.
Sounds Wild and Broken is an invitation to listen, wonder, act.
'Absolutely fascinating.'
MARIELLA FROSTRUP, TIMES RADIO

'Enlightening and sobering.'
JINI REDDY, METRO
In stock