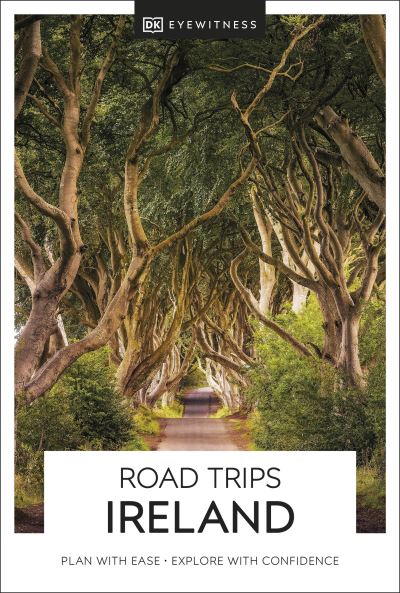 Road Trips Ireland
£14.99
Take your time with 'Road Trips Ireland' and discover 25 leisurely drives through the island's brooding hills, tranquil loughs, and emerald-green fields. Driving through Ireland is the perfect way to appreciate the fantastic diversity of this relatively small island – its rolling glens, sandy beaches and rocky peninsulas, and lonely swathes of blanket bog. Packed with practical information, detailed maps and inspiring ideas, the driving tours in this book will lead you gently to the sights and sounds of the real Ireland.
With its unspoiled coastline, dramatic ruins and picturesque villages, Ireland is the perfect destination for a leisurely road trip. It's yours to explore with Road Trips Ireland, our redesigned and newly updated guide containing 25 drives across the country, from the majestic Ring of Kerry to the extraordinary Giant's Causeway.
Packed with insider tips and information, this easy-to-use guide reveals Ireland at its best: spectacular sights, hidden gems and authentic local experiences. We've also worked hard to make sure our information is as up-to-date as possible following the COVID-19 outbreak.
You'll discover:
– 25 easy-to-follow driving tours, each lasting one to five days, including the vibrant, musical town of Dingle, the culinary delights of Galway bay and the wonderful wildlife at Fota Wildlife Park
– A laminated pull-out road map of Ireland helps you navigate with ease
– Ideas for discovering the character of each area en route: great views, delightful detours along peaceful back roads, walks through historic towns and villages, wine tours and boat trips, and activities such as hiking, cycling and kayaking. Plus you'll savour the best local experiences with our pick of the most authentic places to stay, eat and shop
– All the Irish rules of the road, postcodes for use with satnav and detailed directions for easy navigation, information on road conditions and parking tips
– Covers Cork, Ring of Kerry, the Dingle Peninsula, Waterford, Kilkenny, Tipperary, Wexford, County Carlow, County Clare, Limerick, the Wicklow Mountains, County Kildare, Dublin, Boyne Valley, the Lakelands, Galway, Connemara, Mayo, County Sligo, Donegal, Causeway Coast, County Down, Fermanagh Lakelands, and more
– A fresh new design: Road Trips is an exciting new take on the DK Eyewitness Back Roads series, redesigned and fully updated.
Looking for even more inspiration for your trip to Ireland? Try our DK Eyewitness Ireland.
In stock