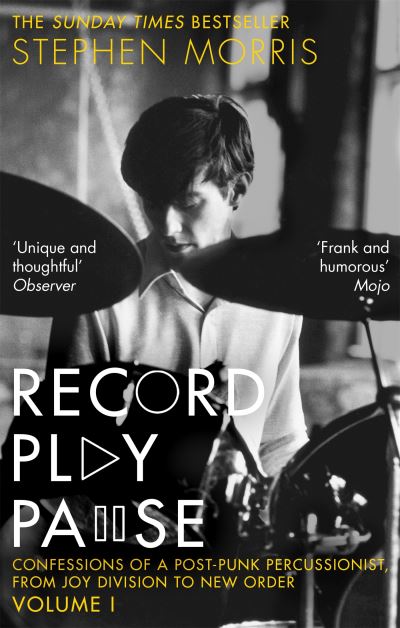 Record Play Pause: Confessions of a Post-Punk Percussionist
£9.99
Stephen Morris has had a distinguished career, spanning nearly 40 years, as a pivotal member of Joy Division and New Order with his trademark machine-like drumming. After the death of Joy Division's singer, Ian Curtis, in 1980, Bernard Sumner, Peter Hook, Morris and his wife Gillian formed New Order, one of the most critically acclaimed and influential bands of the late 20th century. New Order became the flagship band for Tony Wilson's Factory Records and, alongside him, opened the infamous Hacienda nightclub, the centre of the acid house movement. In 2015, after a ten-year hiatus, New Order released Music Complete ; which charted at `2 in its first week of release (the band's highest position in over twenty years). Part memoir, part visual scrapbook, part aural history, this is a hybrid memoir in Stephen's wry and witty voice.
THE SUNDAY TIMES BESTSELLER

'A unique and thoughtful musical memoir' Observer
'Gritty coming-of-age story . . . plenty of anecdotes to keep us hooked, and his memories of Joy Division's Ian Curtis are poignant' Daily Mirror
Before he was responsible for some of the most iconic drumming in popular music, Stephen Morris grew up in 1960s and '70s industrial Macclesfield, on a quiet road that led seemingly to nowhere. Far removed from the bright lights and manic energy of nearby Manchester, he felt stifled by suburbia and feared he might never escape. Then he joined Joy Division – while they were still known as Warsaw – a pioneer of the rousing post-punk sound that would revolutionise twentieth-century rock.
Following two landmark albums and widespread critical acclaim, Joy Division were at the height of their powers and poised to break the US, when lead singer, Ian Curtis, committed suicide.
Part memoir, part scrapbook and part aural history: Stephen Morris's innate sense of rhythm and verve pulses through Record Play Pause. From recollections of growing up in the North West to the founding of New Order, Morris never strays far from the music. And by turns profound and wry, this book subverts the mythology and allows us to understand music's power to define who we are and what we become.
In stock