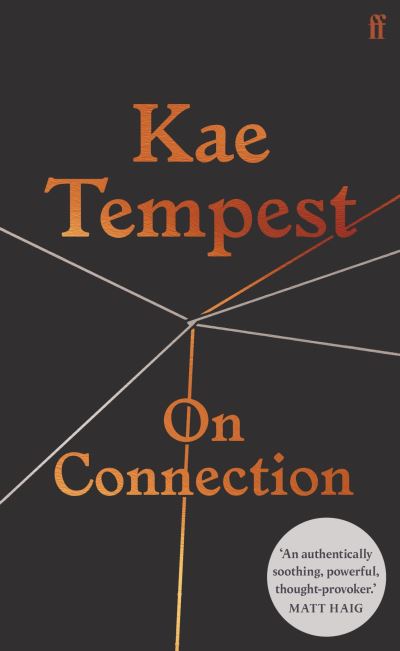 On Connection
£9.99
The increasingly hyper-individualistic, competitive and exploitative society that we live in has caused a global crisis at the turn of the new decade; in order to survive, numbness has pervaded us all. In this urgent and incisive pamphlet, Kae Tempest leads the reckoning against this system, placing our legacy in our own hands. Creativity holds the key: the ability to provide us with internal and external connection, to move us beyond consumption, to allow us to discover authenticity and closeness to all others, to deliver us an antidote for our numbness. This is beyond 'art'. Creative connection is anything that brings us closer to ourselves and fellow human beings, and it has the potential to offer insights into mental health, politics and beyond. Powerful, hopeful and full of humanity, 'On Connection' confirms Tempest as one of the most important voices of her generation.
Beneath the surface we are all connected . . .
'An authentically soothing, powerful, thought-provoker.'
MATT HAIG
'On Connection is medicine for these wounded times.'
MAX PORTER
'On Connection came to me when I needed it most, and reminded me that the links we have to places, people, words, ourselves, are what keep us alive.'
CANDICE CARTY-WILLIAMS
Drawing on twenty years' experience as a writer and performer, award-winning poet, rapper and storyteller Kae Tempest explores how and why creativity – however we choose to practise it – can cultivate greater self-awareness and help us establish a deeper relationship to ourselves and the world.
Personal, hopeful and written with piercing clarity, On Connection is a meditation on creative connection and call to arms that speaks to a universal yet intimate truth.
'Persuasive and profound.' OBSERVER
'Tempest's prose is crisp and thoughtful.' NEW STATESMAN
In stock