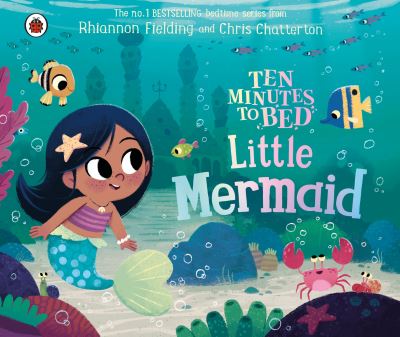 Little Mermaid
Out of stock
Do you have a little mermaid who would rather do anything than sleep? This is the perfect bedtime tale for them! Written specifically for bedtime, join Splash the littlest mermaid as she dives and leaps through the underwater kingdom.
Written specifically for bedtime, this story is full of shimmering fish, dancing crabs, a friendly whale… and one adventurous little mermaid!
Weaving a journey from lively beginning to gentle end, the ten minute countdown to bed is at the heart of this enchanting story. But will Splash get to bed on time? This beautifully illustrated picture book is the perfect length for sending little ones off to sleep.
Also available: Ten Minutes to Bed: Little Unicorn 9780241348925, Ten Minutes to Bed: Little Monster 9780241348918, Ten Minutes to Bed: Little Unicorn's Christmas 9780241414576

Coming soon: Ten Minutes to Bed: Little Dinosaur 9780241386736
Out of stock