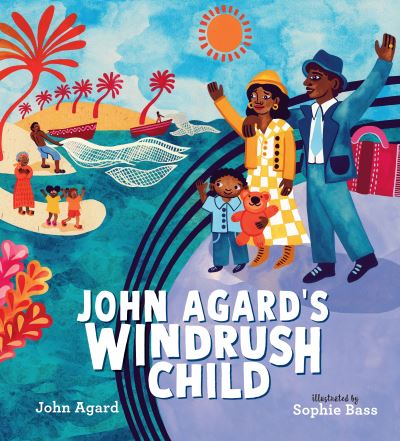 John Agard's Windrush Child
£12.99
With one last hug, a child says goodbye to his grandmother and the shores of his Caribbean home, before stepping into an adventure across the ocean, to an unknown horizon and a sky full of hope. With stunning, thoughtful lyricism, internationally renowned poet, John Agard, recalls the journey made by thousands of West Indian children and families who travelled to Britain as part of the Windrush Generation between 1948 and 1971.
"A beautiful poetic and visual delight" Joseph Coelho
A beautifully evocative story of a child's journey to England on board Empire Windrush, from an internationally celebrated, multi-award-winning poet and an extraordinary debut illustrator.

"you're stepping into history
bringing your Caribbean eye
to another horizon"
With one last hug, Windrush chid waves goodbye to his Caribbean home and sets sail across the ocean to Britain. In this powerful picture book, full of hope and promise, celebrated poet John Agard and illustrator Sophie Bass movingly evoke the journey made by children and their families as part of the Windrush Generation.
"A stunning picture book … with the distinctive, vibrant art of Sophie Bass." The Bookseller
"A gorgeous bedtime read that will reward repeat readings, deceptively simple, emotionally deep." Joseph Coelho
In stock