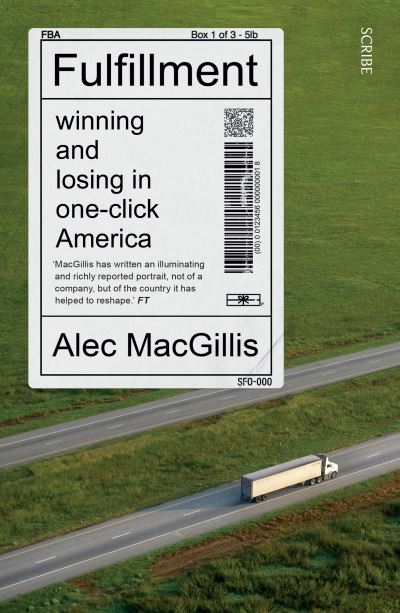 Fulfillment
£10.99
They had their orders, they stopped for nothing. They were carrying a billion dollars, and such a sum of money cannot manifest either sympathy or curiosity; it has enough to do to take care of itself. The year was 1937, and Upton Sinclair had just completed a novel bearing the subtitle 'A Story of Ford-America'. 83 years later, the market capitalisation of Amazon.com has exceeded $1 trillion, while the value of Ford Motor Company hovers around $30 billion. We have, it seems entered the age of one-click America. Alec MacGillis's 'Fulfillment' is not another inside account or impassioned indictment of our most conspicuously dominant company. Rather, it is a wrought study of the America that falls within that company's growing shadow.
ISBN:

9781914484209
Author: MacGillis, Alec
Publisher: Scribe UK
Publication Date: 14th October 2021
Imprint: Scribe UK
Cover: Paperback
Dewey: 381.14206573 (edition:23)
Pages: 400
Language: English
Readership: General - Trade / Code: K
Category: Business & Law
Subjects: Distribution & warehousing management, E-commerce: business aspects, Economic history, Economic systems & structures, Economics, History of the Americas, Internet & WWW industries, Popular economics, Retail sector, Social classes
An award-winning journalist's investigation into Amazon's true impact on inequality.
The market value of Amazon.com has exceeded one trillion dollars. In 2020, its annual revenue increased by over 100 billion dollars. As the company insinuates itself ever further into our lives, Alec MacGillis investigates how it is reshaping society.
With empathy and breadth, he tells the stories of those who've thrived and struggled in this rapidly changing environment, and shows how Amazon has even become a force in Washington, DC.
The result is an intimate account of contemporary capitalism: its drive to innovate, its dark, pitiless magic, and its remaking of our world with every click.
In stock