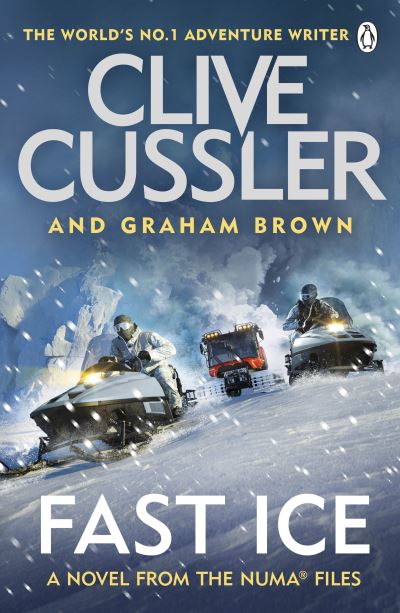 Fast Ice
£8.99
In the early days of World War II, the infamous German Luftwaffe embark upon an expedition to Antarctica's icy continent. Their mission ends in disaster – its frozen secrets lying forgotten for almost a century. When a former NUMA colleague mysteriously disappears, Kurt Austin and his assistant Joe Zavala journey to the freezing edge of the world to investigate. Amidst the perilous waters and frigid temperatures, they soon uncover a terrifying weapon – a man-made, fast-growing ice with the power to usher in a new Ice Age. With a determined madman and a monstrous storm at their heels, Kurt and the NUMA team must unravel the Nazi-era plot, and save the globe from a freeze that would bury it once and for all.
Join the latest thrilling NUMA Files adventure as Kurt Austin races to Antarctica to stop a chilling plot that imperils the entire planet . . .
THE SUNDAY TIMES BESTSELLER FROM THE GRAND MASTER OF ADVENTURE, CLIVE CUSSLER
______
A research ship is adrift off the coast of Antarctica . . .
Weeks earlier, one of the crew messaged NUMA claiming to have made a world-shattering discovery. Followed by silence. Kurt Austin and Joe Zavala are dispatched to the icy waters. They find a sinking ship, her crew murdered, the vessel ransacked – and one research scientist missing.
What was discovered? Who wanted it badly enough to kill everyone? And where did they vanish to?
One way or another Kurt's heading for Antarctica to learn the truth. But he won't just be risking sub-zero temperatures, avalanches and blizzards.
For someone is preparing to turn this secret discovery into a weapon of chilling power – unless Kurt can find them first . . .

Praise for Clive Cussler:
'The Adventure King' Sunday Express

'Cussler is hard to beat' Daily Mail
'Nobody does it better . . . nobody!' Stephen Coonts
In stock