View basket
"Between the Covers" has been added to your basket.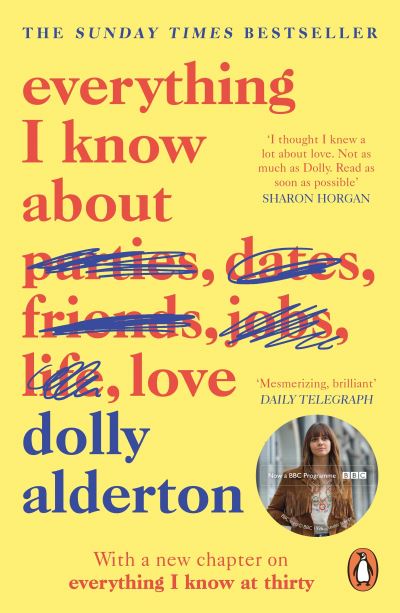 Everything I Know About Love
£8.99
A spot-on, wildly funny and sometimes heart-breaking book about growing up, growing older and navigating all kinds of love along the way. When it comes to the trials and triumphs of becoming a grown up, journalist and former Sunday Times dating columnist Dolly Alderton has seen and tried it all. In her memoir, she vividly recounts falling in love, wrestling with self-sabotage, finding a job, throwing a socially disastrous Rod Stewart-themed house party, getting drunk, getting dumped, realising that Ivan from the corner shop is the only man you've ever been able to rely on, and finding that that your mates are always there at the end of every messy night out.
THE SUNDAY TIMES BESTSELLER WITH A NEW CHAPTER ON TURNING THIRTY.
READ AND LOVED IT? GIFT IT TO A FRIEND THIS FESTIVE SEASON!
'There is no writer quite like Dolly Alderton working today and very soon the world will know it' Lisa Taddeo, author Three Women

'The book we will thrust into our friends' hands. Alderton feels like a best friend and your older sister all rolled into one and her pages wrap around you like a warm hug' Evening Standard
Award-winning journalist Dolly Alderton survived her twenties (just about) and in Everything I Know About Love, she gives an unflinching account of the bad dates and squalid flat-shares, the heartaches and humiliations, and most importantly, the unbreakable female friendships that helped her to hold it all together. Glittering with wit, heart and humour, this is a book to press into the hands of every woman who has ever been there or is about to find themselves taking that first step towards the rest of their lives.
'Alderton is Nora Ephron for the millennial generation' Elizabeth Day
'Steeped in furiously funny accounts of one-night stands, ill-advised late-night taxi journeys up the M1, grubby flat-shares and the beauty of female friendships, as Alderton joyfully booze-cruises her way through her twenties' Metro
'Deeply funny, sometimes shocking, and admirably open-hearted and optimistic' Daily Telegraph
'A sensitive, astute and funny account of growing up millennial' Observer
'I loved its truth, self awareness, humour and most of all, its heart-spilling generosity' Sophie Dahl
'Alderton proves a razor-sharp observer of the shifting dynamics of long term female friendship' Mail on Sunday
'It's so full of life and laughs – I gobbled up this book. Alderton has built something beautiful and true out of many fragments of daftness' Amy Liptrot
*Winner of Autobiography of the Year at the National Book Awards 2018*
*A Waterstones Paperback of the Year 2019*
*A Sunday Times paperback of the year 2019*
*Selected for Stylist's The Decade's 15 Best Books by Remarkable Women*
In stock