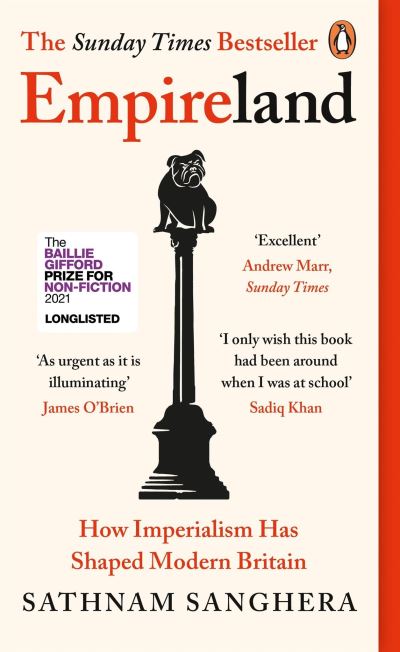 Empireland
£9.99
In his brilliantly illuminating book, Sathnam Sanghera demonstrates how so much of what we consider to be modern Britain is actually rooted in our imperial past. In prose that is, at once, both clear-eyed and full of acerbic wit, Sanghera shows how our past is everywhere: from how we live to how we think, from the foundation of the NHS to the nature of our racism, from our distrust of intellectuals in public life to the exceptionalism that imbued the campaign for Brexit and the government's early response to the Covid crisis. And yet empire is a subject, weirdly hidden from view.
***FEATURING UPDATED AND NEW MATERIAL***
***THE BOOK THAT INSPIRED THE CHANNEL 4 DOCUMENTARY 'EMPIRE STATE OF MIND'***
THE SUNDAY TIMES BESTSELLER
'The real remedy is education of the kind that Sanghera has embraced – accepting, not ignoring, the past' Gerard deGroot, The Times
_____________________________________________________
EMPIRE explains why there are millions of Britons living worldwide.
EMPIRE explains Brexit and the feeling that we are exceptional.
EMPIRE explains our distrust of cleverness.
EMPIRE explains Britain's particular brand of racism.
Strangely hidden from view, the British Empire remains a subject of both shame and glorification. In his bestselling book, Sathnam Sanghera shows how our imperial past is everywhere: from how we live and think to the foundation of the NHS and even our response to the COVID-19 crisis.
At a time of great division, when we are arguing about what it means to be British, Empireland is a groundbreaking revelation – a much-needed and enlightening portrait of contemporary British society, shining a light on everything that usually gets left unsaid.
_______________________________________________________
'Empireland takes a perfectly-judged approach to its contentious but necessary subject' Jonathan Coe
'I only wish this book has been around when I was at school' Sadiq Khan, Mayor of London
'This remarkable book shines the brightest of lights into some of the darkest and most misunderstood corners of our shared history' James O'Brien
In stock