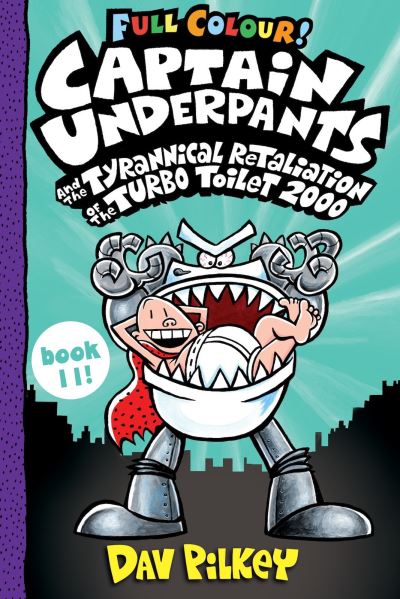 Captain Underpants and the Tyrannical Retaliation of the Turbo Toilet 2000
£8.99
When the evil Turbo Toilet 2000 was defeated, George and Harold thought their toilet troubles were over. Unfortunately, their problems were only beginning… Join Captain Underpants for another epic showdown of Wedgie Power vs. Potty Power.
 
Laugh out loud with Captain Underpants, from Dav Pilkey, the creator of Dog Man! Now in this full-colour graphic novel.
The Turbo Toilet 2000 returns in the eleventh book in this #1New York Timesbestselling series.
Just when you thought it was safe to flush, the Turbo Toilet 2000 strikes back!
The carnivorous commode known for devouring everything in its path has built up a real appetite … for REVENGE!
Luckily, the fate of humanity is once again in the hands of George and Harold and their annoying nemesis Melvin Sneedly.
Will Wedgie Power prevail? Or will the amazing Captain Underpants be flushed away forever?
About the series:
Captain Underpants is now a feature-length animated film from DreamWorks and a series on NETFLIX
The original Captain Underpants books are fully illustrated with black and white comic book drawings
The series is now also available in these full-colour graphic novels
Perfect for all children, but especially those who are struggling to engage with reading
Full of fun and laughs (and toilet humour)!
In stock