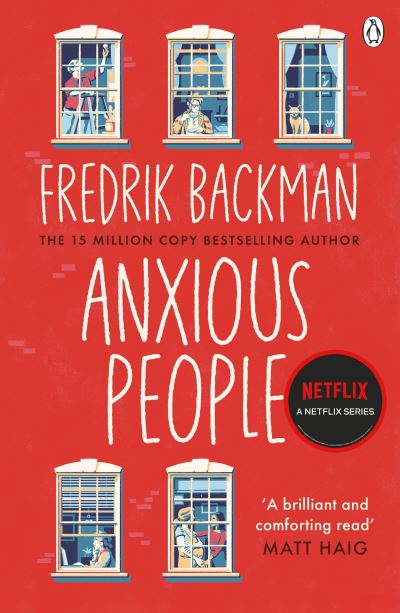 Anxious People
Out of stock
In a small town in Sweden, it appears to be an ordinary day. But look more closely, and you'll see a mysterious masked figure approaching a bank. Two hours later, chaos has descended. A bungled attempted robbery has developed into a hostage situation – and the offender is refusing to communicate their demands to the police. Inside the building, fear quickly turns to irritation for the seven strangers trapped inside. If this is to be their last day on earth, shouldn't it be a bit more dramatic? But as the minutes tick by, they begin to suspect that the criminal mastermind holding them hostage might be more in need of rescuing than they are.
**SOON TO BE A NETFLIX TV SERIES**
'A brilliant and comforting read' MATT HAIG
'Funny, compassionate and wise. An absolute joy' A.J. PEARCE
'A surefooted insight into the absurdity, beauty and ache of life' GUARDIAN
'I laughed, I sobbed, I recommended it to literally everyone I know' BUZZFEED
'Captures the messy essence of being human' WASHINGTON POST
The funny, touching and unpredictable No. 1 New York Times bestseller from the 15 million copy internationally bestselling author of A Man Called Ove
_______
It's New Year's Eve and House Tricks estate agents are hosting an open viewing in an up-market apartment when an incompetent bank robber rushes in and politely takes everyone hostage.
For Anna-Lena and Roger, busy buying-up apartments to fill the hole in their marriage, it's something else to talk about.
For Julia and Ro, panicky parents-to-be, it's yet another worry.
Lonely bank manager Zara only came here for the view.
While 87-year-old grandmother Estelle seems rather pleased by the company . . .
As the police gather outside, the anxious strangers huddled within try to make the best of a very sticky situation – but could it be that they have a whole lot more in common than meets the eye?
_______
Readers are loving Anxious People!
'Backman never disappoints . . . heartwarming and multi layered' 5***** READER REVIEW
'As always Backman manages to delight . . . a really satisfying ending that makes you feel better about the world' 5***** READER REVIEW
'A wonderfully unusual tale, told with flair and finesse that is so wonderful it is sure to cure everything that ails you. Don't miss out on this beautiful book' 5***** READER REVIEW
'This novel is about humanity at its most raw and at its most wonderful and I LOVED it!' 5***** READER REVIEW
Out of stock