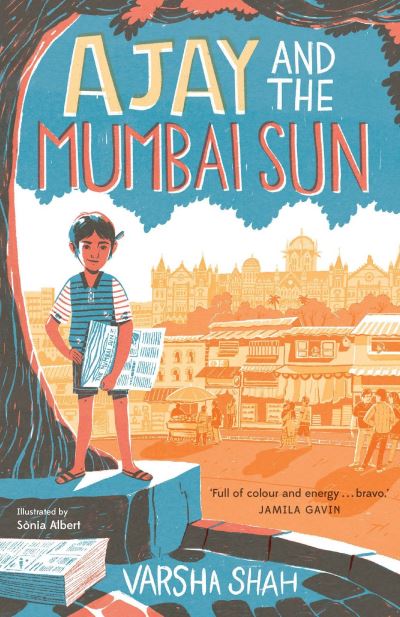 Ajay and the Mumbai Sun
£7.99
Adjay is a Mumbai railway kid, a newspaper seller, but his great dream is to be a journalist. His dream comes true when he and a gang of friends create their own newspaper – but what is the cost of uncovering the truth?
 
A high-stakes adventure story full of heart from debut author Varsha Shah, featuring charming illustrations from Sònia Albert!
'Full of colour and energy ? bravo' JAMILA GAVIN
'Utterly charming, inspiring and gripping ? An absolute must-read!'Â KIERAN LARWOOD
'Ajay is the most intrepid young reporter since Tintin, caught up in a gutsy and moral adventure to find and tell the truth. This sensational debut is full of outrage but full of warmth and friendship too.' KEITH GRAY
'Exhilarating and heartwarming – a story that shows the true power of the pen. Shah's tremendous talent shines on every page.' CARLIE SOROSIAK
Abandoned on the Mumbai railways, Ajay has grown up with nothing but a burning wish to be a journalist.
Finding an abandoned printing press, he and his friends Saif, Vinod, Yasmin and Jai create their own newspaper: The Mumbai Sun.
As they hunt down stories for their paper, the children uncover corruption, fight for justice and battle to save their slum from bulldozers.
But against some of the most powerful forces in the city, can Ajay and his friends really succeed in bringing the truth to light? Not to mention win the most important cricket match ever …Â 
A high-stakes adventure story full of heart, written against the backdrop of modern India: Emil and the Detectives meets Slumdog Millionaire
Winner of the Times/Chicken House Children's Fiction Competition 2020
Wonderfully illustrated by Sònia Albert and starring a lovable ensemble cast of characters 
Tackles tough topics such as social justice and truth in journalism with a lightness of touch
In stock